InfiniTV 4 PCIe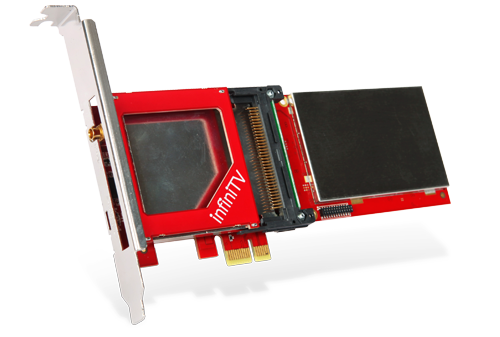 InfiniTV 4 PCIe is the world's first multi-tuner solution for bringing digital cable TV service to the PC, including support for premium cable channels. It turns your Windows 7 desktop, tower, home theater PC or slimline entertainment PC into the ultimate entertainment platform for television. InfiniTV 4 PCIe enables you to watch and record up to four live channels of HDTV at once, and stream live HD channels or recordings to multiple HDTVs throughout the home*, all from a single cable connection and a single CableCARD™.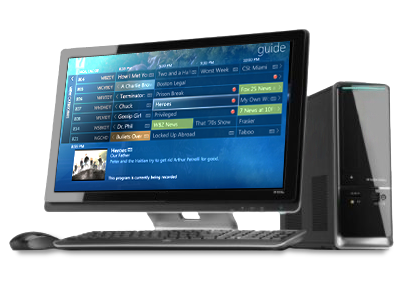 Replace your cable set-top boxes and their expensive monthly rental fees, and enjoy premium cable shows on TV sets throughout the home*, all from a single device. With the Ceton InfiniTV 4 PCIe your PC becomes a complete entertainment platform for all your media, including premium cable TV.
Four Live HD Channels At Once

Watch and/or record four live channels of standard-definition or high-definition TV simultaneously, including all your favorite premium and encrypted cable channels.

Whole-Home Entertainment

With Windows Media Center Extenders like the Ceton Echo or Xbox 360™, your Media Center PC with a Ceton InfiniTV becomes a whole-home entertainment device for digital cable. Watch and record different channels in different rooms, all from one PC, and using the familiar Windows Media Center user interface on all TVs.

Easy To Set Up

Just insert InfiniTV 4 PCIe in your PC, follow the simple installation instructions, and in just a few minutes you'll be enjoying the best digital cable TV experience available on any device.

Works with any U.S. cable provider

InfiniTV 4 PCIe connects to any U.S. cable system to receive all SD and HD digital cable channels without needing a separate set-top box.

Supports Switched Digital Video

As cable providers move to Switched Digital Video (SDV) technology, rest assured that your Ceton InfiniTV 4 supports SDV Tuning Adapters just fine.

Internal, Low Profile Form Factor

InfiniTV 4 PCIe is available in the PCI Express Low Profile form factor, making it an ideal solution for use in slim entertainment PCs as well as full-height desktops and towers.
Minimum system requirements:
PC with Microsoft Windows 7 SP1 or Windows 8.x Pro (64-bit) with Media Center

2.0 GHz or faster dual-core or quad-core 64-bit (x64) processor
3 GB of RAM (4 GB recommended)
350 GB of available hard disk drive space recommended for 50 hours of HDTV recordings
1 available PCI Express (PCIe) slot, which can be either an x1, x4, x8, or x16 type slot
HDCP-compliant graphics card or on-board graphics
HDMI output, or DVI output with separate 5.1 audio output required for Dolby 5.1 surround sound

Note: InfiniTV does not support NVIDIA nForce motherboards or chipsets

One Multi-stream CableCARD™ (M-Card), available from your cable TV provider
A TV display with HDMI input, or HDCP-compliant DVI input and separate audio input
A Tuning Adapter from your cable operator might be required if your cable TV provider uses Switched Digital Video technology. Please check with your cable operator.
Digital cable TV subscription from your local cable TV provider. HD package required to receive High Definition TV channels
Please see the Multi-room Ceton InfiniTV System Requirements for PCs using multiple tuner devices and/or multiple extenders.
Technical Specifications:
Four QAM 64/256 tuners
CableCARD M-Card DRM Processor
Open Cable Unidirectional Receiver Specification -OC-SP-OCUR-I11-130607
Digital Receiver Interface Specification - OC-SP-DRI-I04-100910
CableCARD Copy Protection 2.0 Specification - OC-SP-CCCP2.0-I10-090904
CableCARD Interface 2.0 Specification - OC-SP-CCIF2.0-I22-100910
Digital Cable Network Interface Standard - ANSI/SCTE 40 2011