Many folks have asked how they can use Ceton InfiniTV tuners, Echo extenders and My Media Center apps to enjoy their media center experience throughout their home. They love the richer experience they get from Windows Media Center and want to have that on all their TV sets. We heartily agree and this post will show you how that works.
How can I get TV and DVR in every room?
For a multi-room/multi-TV scenario, your setup would include:
A Media Center PC running Windows 7 with Media Center

The PC is connected to one TV set via an HDMI cable, or a DVI cable and a separate audio connection
One or more Ceton InfiniTV 4 devices are installed in the PC

One nice advantage of InfiniTV is that you can have up to three InfiniTV 4 devices, for a total of 12 tuners per PC!

A CableCARD from your local cable company is inserted into the InfiniTV device
The InfiniTV is plugged into a cable outlet via a standard coax cable
The PC is also connected to an Ethernet network connection in order to get your live TV and DVR shows on other TV sets as well
A Ceton Echo on each other TV set :

The Echo is connected to your TV via an HDMI cable
The Echo is also plugged into an Ethernet network connection which is on the same home network as your PC
Your setup would look something like this: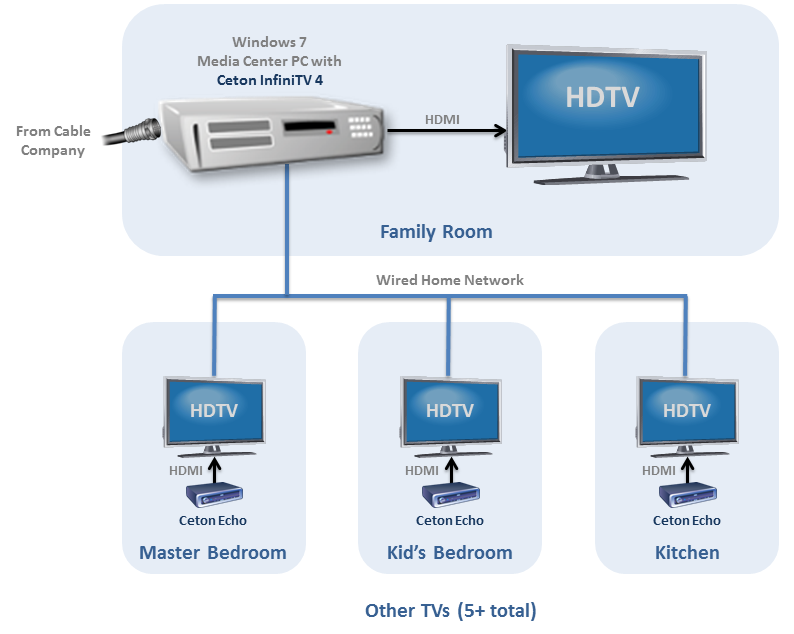 Tell me about the networking
For networking, Echo supports Ethernet out of the box.  If you have a wired Ethernet network at home, you can just plug the PC and Echo into nearby Ethernet jacks in each room.
If your home isn't wired then you can use
MoCa
or
Powerline
adapters instead.  These technologies basically turn your existing coax (for MoCA) or electrical wiring (for Powerline) into a wired Ethernet network.  You would have one adapter at your router and then another adapter at each device (PC and/or Echo) that you need to connect.  This is a relatively easy and inexpensive way to get a fast, reliable wired home network without having to run Ethernet cables into every room.  You can even mix and match Ethernet, MoCA and Powerline on the same network as long as they all communicate with the same router.
MoCa is the recommended choice overall as you typically get better Quality of Service (QoS) and faster speeds.  PowerLine also works but performance can vary and can be affected by the wiring in your home as well as other appliances that are on the same circuit.  For example, Powerline may not be a good solution if your Powerline adapter is on the same circuit as a major appliance like a refrigerator or washing machine.
Here are some MoCA and Powerline adapters that we use ourselves at home with InfiniTV and Echo:
What about WiFi?
We don't recommend or support WiFi networks for the Echo because current WiFi standards aren't fast enough and don't have the QoS needed to consistently deliver multiple HDTV signals today.  With Windows Media Center, the HDTV signal that is being sent around the house is in the MPEG-2 format, which is the format that most TV providers broadcast in.  MPEG-2 can require almost 20 Mbps of bandwidth for each HD channel.  If you have 2 or 3 different TVs, each watching an HD show, that's 40-60 Mbps of bandwidth needed.  Add to that any other activity going on at the same time (someone watching Netflix in another room for example) and you can see how easily you can run out of network capacity when using a Media Center on WiFi.
But WiFi works fine when I watch Netflix!
That's true but, unlike broadcast TV, streaming services like Netflix don't use MPEG-2.  Their video is usually encoded in the MPEG-4 format, which uses 1/4 the bandwidth of MPEG-2 and often even less than that.  Those services can also adapt the stream to your actual bandwidth.  In fact, Netflix measures this and in their
December 2012 ISP rankings
, the
fastest
average speed they measured, across their 30 million members and 1 billion hours of streaming, was only 2.57 Mbps!
The images may look the same on screen when you compare an HD show coming from your cable operator and the same show on Netflix, but the bandwidth they require is very different.
So … What Will this Awesome Setup Give Me?
A PC with one InfiniTV 4 will let you watch or record up to 4 live channels at once across all your devices (PC and Echos).  In other words, with one InfiniTV 4 you can:
Watch 1 live channel on the Family Room TV while recording 3 others
Watch 1 live channel on the Family Room TV and 3 other live channels on 3 other TVs in other rooms that have Echos
Watch 1 live channel and record another channel on the Family Room TV and watch a 3rd live channel on the Bedroom TV and a 4th live channel on the Kitchen TV
Watch 1 live channel and record a 2nd channel on the Family Room TV while you're watching a 3rd live channel and recording a 4th from the Bedroom TV
And so on …
How do the My Media Center apps fit in?
My Media Center
is a family of mobile apps for smartphones and tablets that lets you manage and control your Media Center experience.  They're the perfect companion whether you just use InfiniTV in 1 room to watch and record your favorite shows or whether you have InfiniTV and Echos throughout the house for the full whole-home experience.
With My Media Center, you install a small Windows application called
My Media Center Services
on your Media Center PC and install the
My Media Center app
on whichever devices you want to use.  There are My Media Center versions for Apple iOS, Android, Windows Phone and Windows 8 devices.  You can find links to the various app stores in the
Download
tab on the
My Media Center
page.
My Media Center lets you do some really cool things like:
Browse the program guide and schedule recordings from your mobile device, instead of having to do it on the TV and annoy anyone else who is watching with you
Search for shows by title or description
Browse your movie collection or DVR recordings, select what you want to watch, and tell it to play on any TV that is connected your Media Center PC or an Echo
Find what new series premiers are coming up and schedule a series recording
It even includes an awesome remote control so you can navigate Media Center, pause, fast forward, rewind and more, right from your device
You can set things up to use My Media Center outside your house as well.  On a trip and see an advertisement for a new series you want to record at home?  No problem … just fire up My Media Center and schedule the recording whether you're across the room or across the world.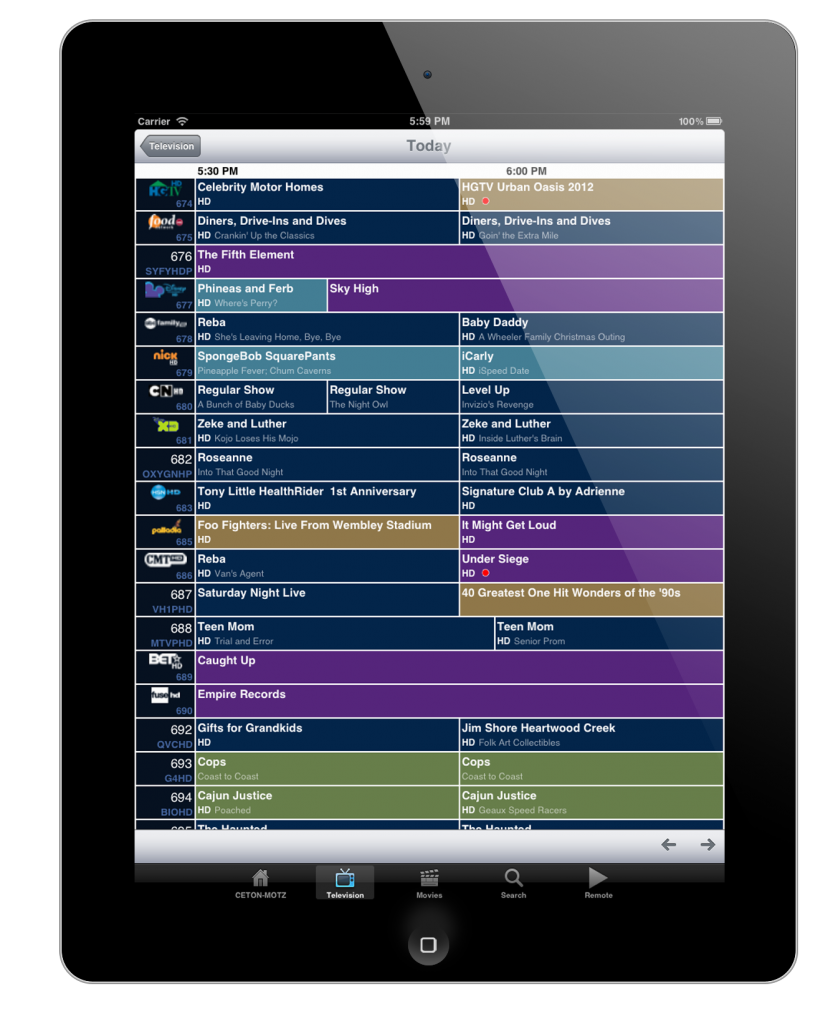 If you need more info
We hope you find this info helpful.  Below are some useful links if you need more information on how to get up and running with InfiniTV, Echo and My Media Center.  And don't forget that Ceton Support is always here to help!

InfiniTV
FAQ
Installation Guide, Videos and Downloads
Technical Support

Echo
FAQ
Installation Guide
Echo Settings Plugin Download
Technical Support

My Media Center
FAQ
Installation Guide
Technical Support

Ceton General
Ceton Support Center
Ceton Support Knowledgebase